TALKING TO STRANGERS AND OTHER WARNINGS by Tina Rath has been reviewed by John Gilbert in Phantasmagoria magazine issue 15.
When people try to ridicule the horror and fantasy genres as lightweight and frothy or gory and gratuitous puff, I just point them in the direction of authors such as Tina Rath. Dr Rath is truly a renaissance woman; an academic with a fascination for supernatural literature and folklore, an actress, Queen Victoria impersonator, poet, and librarian; she has a formidable intellect and ferocious wit. Oh, and according to Gail Nina-Anderson's 'Introduction' to Talking to Strangers, Tina's latest short story collection, she is a part-time vampire.
The twenty-nine supernatural tales in her brand new 'best of' collection range from the dark and forbidding to the gently humorous, many of them distilling a sense of unease from everyday items in contemporary settings with a hefty sting in the tale. The best stories in the collection demonstrate Dr. Rath's deep knowledge of classic and contemporary supernatural fiction. Alien encounters is the theme of 'Talking to Strangers in Finsbury Park'; 'A Visit to Blastings Manor' is a superb Christmas ghost story; in 'This is How It Happened', a classic fairy tale is given a modern setting. A young cleaner gives a hospital ward an unusually deep clean in 'Ilona' and in 'A Beautiful Boy', a handsome young man appears to bring out the best and youthfulness renewed in an old folks' home.
A newcomer at St Walburga's school shows herself as no geek and no pushover for the bullies in 'Scruffy The Vampire Slayer' and a lodger proves more difficult to get rid of than originally anticipated in 'Sitting Tenant'. 'Diversion' takes bus passengers on anything but a magical mystery tour whilst 'A Trick of The Dark' poses the fateful question, "What kind of job finishes just at sun-set?". '"It's White and It Follows Me"' is a ghostly lament; 'The Fetch' in a tale of a ghostly guest first published last year in a collection to commemorate the life of R. Chetwynd-Hayes; in 'The Bus', Mrs Fortescue waits for eternity and in the 'Fifth Sense' the author engages in some clever lycanthropic olfaction (the lengths to which I go in order to hide spoilers).
Packed full of supernatural fun and surprises, Talking to Strangers… demonstrates the great breadth and depth of Tina Rath's talent as a writer of supernatural fiction, collecting together the very best of her output during thirty-seven very productive years and four stories which were specially written for this book. Entertaining, dark, perplexing and humorous, the stories will keep horror fans enthralled during many a day in lockdown and beyond.
Talking to Strangers is published by The Alchemy Press and is available from Amazon and other online dealers.
* * * * * *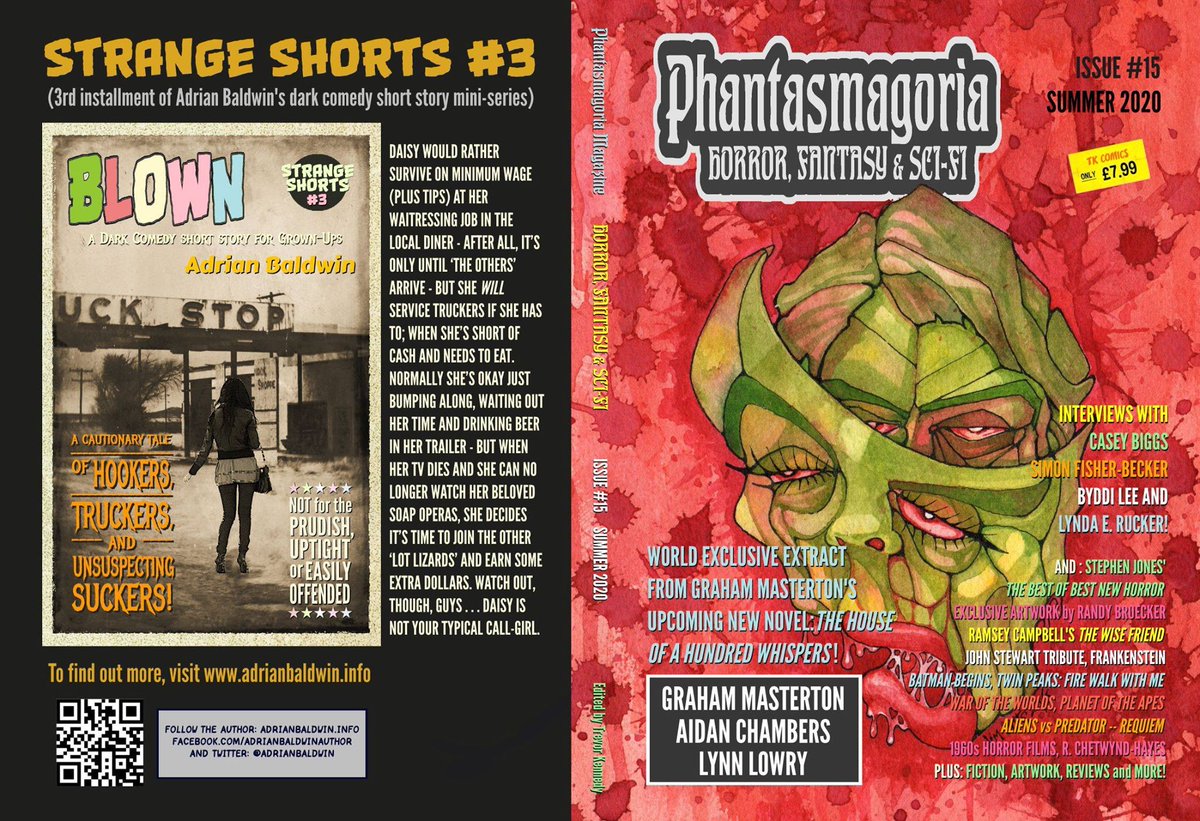 While we're here, I thoroughly recommend Phantasmagoria magazine, published by Trevor Kennedy several times a year. Available from Amazon in print and Kindle formats.